It was halfway March when i had the urge to start a new mix but i didn't feel much for a mashup so i started thinking about a mix with more then 2 or 3 tracks. But the problem was that i didn't have any idea of what kinda mix i would make. So i opened my Hitdossier with my eyes closed and the book fell open on the letter F page and my eye fell on the name Fox, Samantha and so came the idea of making a Samantha Fox megamix. But when i started collecting tracks i found out that she didn't have enough songs to make a big megamix so i decided to put in some other tracks aswell. And with that i came up with the idea to make a mix of girls who did sell their records not only because of their good voices ;o)
And with that it was no problem to fill 20 minutes with their greatest boops oow i mean hits.
I finished the mix in 20 hours spread over 3 days and i called the mix Boops Per Minute but while i was making the cover i thought Dancing Boops was a better name.
The mix is already aired by Harold Zwaartman @ WayFM in his programme The DJ's @ thursdayevening between 19:00 and 22:00
I hope you like the mix and it would be great if you would share your opinion about the mix with me by sending me an email.

Playlist:
00 - Intro by Norman Cook
01 - Samantha Fox - You Started Something
02 - Sabrina - Lady Marmalade
03 - Sabrina - My Chico (PWL Remix)
04 - Sabrina - Boys Boys Boys (Peter Slaghuis mix)
05 - Samantha Fox - Love House (The Black Pyramid Mix)
06 - Sabrina - Hot Girl (extended mix)
07 - Sabrina - Boys (Razormaid Remix)
08 - Sabrina - Like a Yoyo [PWL Remix]
09 - Samantha Fox - Touch Me 2004 (Dj Dlg & Redroche Remix)
10 - Samantha Fox - Nothing's gonna stop me now (87)
11 - Sabrina - Yeah Yeah (7'' Remix)
12 - Tatjana - Chica Cubana (Maxi Mix)
13 - Samantha Fox - I Wanna Have Some Fun (Extended Version)
14 - Tatjana - Baby love
15 - Tatjana - Awaka Boy
16 - Tatjana - Baila Baila`
17 - Samantha Fox - I Only Wanna Be With You (Razormaid Mix)
18 - Sabrina - I Feel Love (Extended Mix)
19 - Samantha Fox & DJ Aligator - Touch Me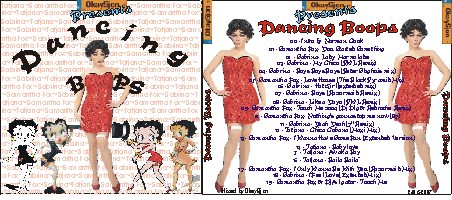 If you would like to receive the covers in high Q, please send me a mail